Germany is a European country known for its advancements in science and technology. Its progress has attracted foreign citizens to study in this land of thinkers.
Germany also offers exciting tourist attractions in addition to its educational opportunities. Many of the country's tourist attractions are historical monuments and castles left by German aristocrats. These relics bear witness to Germany's difficult and glorious past.
Aside from the historical sites, Germany also offers natural attractions with beautiful scenery. Getting a flight to Germany is relatively easy through Traveloka.
Destinations in Germany
1. The Berlin Wall
The Berlin Wall is the most famous and iconic tourist spot in Germany. From 1961 to 1989, Germany was divided into West Germany and East Germany, and this wall was the dividing line.
Today, only a small part of the Berlin Wall can still be seen. The concrete structure of the walls has been largely demolished, but fragments of it remain a feature of the city. A Berlin Wall trail provides 14 sections of the route designated for cyclists and pedestrians.
2. Brandenburg Gate
The Brandenburg Gate is a monument commemorating West Germany's and East Germany's unification. This gate was built in the 18th century before the Berlin Wall was torn down. The primary purpose of its development was as a route to enter the city of Brandenburg an der Havel.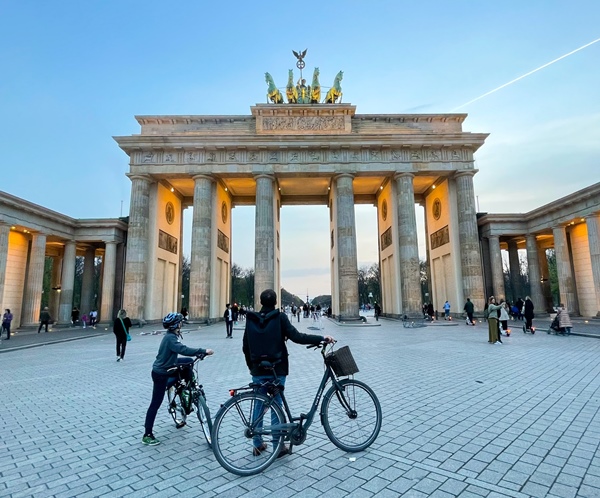 To find this gate in Berlin, head to the far west. After the Berlin Wall was erected in 1961, this gate was impassable for 28 years. This German attraction is a symbol of German reunification itself.
3. Cologne Cathedral
Besides castles, many old buildings found in Germany are churches, one of which is the Cologne Cathedral. This church is a Roman Catholic cathedral with a Gothic architectural style located in the center of Cologne.
The Cologne Cathedral, which was founded in 1248, has a resemblance to the Amiens Cathedral. An altar stands majestically, with the material used being black marble. There are also five windows made of stained glass on the south wall, which King Ludwig I of Bavaria gave.
4. Frauenkirche
Another old church that is a tourist spot in Germany is Frauenkirche. Located in Dresden, this church is a Lutheran church that was destroyed during World War II. In the 1720s, the church underwent reconstruction with the original plans. The golden cross on the church's dome was a donation from the city of Coventry which the Luftwaffe destroyed.
In 2005, Frauenkirche was reopened and became the most potent attraction for tourists coming to Dresden. Even in 2009, American President Barack Obama visited this church.
5. Oktoberfest
Oktoberfest in Munich is the largest festival in the world, with more than 6 million visitors annually. Despite the name, Oktoberfest starts in late September through the first weekend in October.
An important part of Bavarian culture, this festival has been held since 1810. Visitors enjoy various traditional dishes such as Hendl, Schweinebraten, Würstl, Knödel, and many German beers.
Refresh your mind by going on vacation with Traveloka. With this application, you can find thousands of hotels and resorts in various tourist destinations in Germany.
Suppose you are planning to visit London before going to Germany. In that case, you can find flight tickets for the Kuala Lumpur to London route and all the necessary accommodations for your vacation in London on Traveloka.